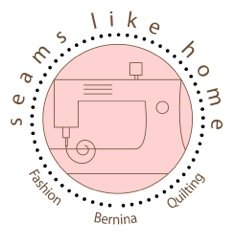 Hellow SLH Followers,
Happy almost Superbowl! If you're a 49ers or Ravens fan, I'm sure you are preparing in anticpation for next Sunday! As for the rest of us, maybe we'll have better luck next year!
And for those of you who are just watching for the commercials, come in durning the game times and take advantage of our Bernina promotion. We have a financing special right now, as well as some specials on the machines we will be taking on our cruise next month. (You will need to call or come by to get the special pricing information on the cruise machines!)
Upcoming Classes
We are just coming off our Class Sale Weekend and have a few classes starting this week with a few more open spots if you would like to sign up still.
Beginning Sewing 102
Debby Carter & Norm Van Manen
Monday, January 21 & 27 & February 4 & 11 6:00-8:30pm
Snow Wrap
Debby Carter
Thursday, January 24 & 31 5:30-8:30pm
Football Fanatic
Enjoli Strait
Saturday, January 26 & February 2nd 10:30-3:30pm
I hope you all had a chance to come in and check out our class samples, just look for the bright orange signs! We are going to have a great class session so be sure to sign up early before classes fill!
And because it seems like its been awhile, just wanted to brag a bit on my girls! They are getting so big!
Ascher is on the left, Avalyn is on the right & Alia (my almost 3 year old) is in the middle!
Looking forward to seeing you in the store,
Enjoli & the Team Members at SLH