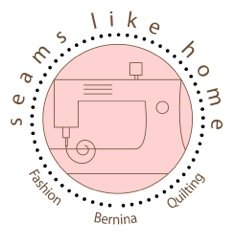 Happy (Almost) New Year SLH Followers,
We want to thank you for making our 2012 a good one! We had so many exciting things happen during 2012 and are looking forward to many more in 2013!
This year, we welcomed the twins in our family! (And boy did they make the last part of 2012 fly by!)
And is much more recent exciting news, ANGELYN IS ENGAGED! We got to officially welcome her boyfriend Cliff into our family!
Congrats to you two! Now we have a wedding to look forward to in 2013!
We also got to welcome this wonderful new addition to the Bernina Family!
The Bernina 7-Series!
If you haven't seen it yet, come by the store! It really is amazing! New Years resolution..buy a 780?! Definite possibility!
WELCOME 2013
To bring in the new year with a bang, here is what we have going on at SLH!
January 1, 2013 - Annual Fat Quarter Sale!
We will be open normal hours (10-8) and Fat Quarters will be $1! You must buy a minimum of 50, but you can definitely buy MORE than 50! And the best part is that you get them for just $1! This is one of those sales where you really do need to come early, otherwise you won't have many fat quarters left to choose from!
January 18, 19 & 20, 2013 - Class Sale Weekend
Every new class session we have a sale weekend where class fees and supplies are 20% off! This session it is on January 18, 19 & 20. We have some awesome new classes this session, you will not want to miss them. And as a special bonus, I got them up on the website a day early this year! You can head over to our "Class" page to look through what we have to offer this session! (p.s: still working on getting the photos up, so be patient with me!)
Samples will be going up between now and sale weekend. I am promising all samples up by the Wednesday before the sale, which is January 16th!
February 10-17, 2013 - Quilt Seminars at Sea Quilt Cruise
We were asked way back last year to be part of a Quilt cruise that was taking place here in Alaska, which I am sure most of you heard about. We were all very excited. We provide the machines and on board store for the cruise, and we get to have fun with all the gals sewing! This year, we get to go to the Caribbean! So, on February 8th, Maret, Angelyn & Enjoli head to the Caribbean to do this years Quilt Seminar at Sea! We have our floaties and sunscreen ready! (P.S: Be on the lookout for some great machine specials just before and after we go!)
There are so many things to look forward to for 2013! As always, we get fabric on a regular basis and will keep you posted on what comes in! It's like Christmas all year round!
Oh, speaking of, if you haven't heard yet about a new program we are starting in 2013 you don't want to miss it. It is called Buck-a-block!

Buck-a-block - All year!
This saturday sampler like program offers you a year's worth of block for only $1 a peice! There is a start up fee of $10, but that gets you all of the Thangles (half-square triangle templates) for the whole year and your first block! We are offering Buck-a-Block in four color ways; Forget-me-not, Animal Print, Batik & Jewel tone!
Head over to the
Buck-a-Block page
for more information and pictures of the blocks!
This is the Animal print sample..only 4 spots left in this color run!
May 16-19, 2013 - Quilt Market in Portland
This year, we will head off to Spring Market in Portland to ohh and ahh over the new fabrics, books and notions being released! As always, we will keep you updated with photos and blog post from Portland!
Well, we try to take the month of June "off" from the craziness, but not this year!
June 5- 9, 2013 - Stillpoint Lodge Retreat featuring Gail Garber
Head over to our
"Retreat" page
for more information! All I have to say is that it is going to be a great retreat in a beautiful part of Alaska!
June 15-22, 2013 - Quilt Seminars at Sea- Alaska Cruise
In June, we will cruise through Alaska, visiting Juneau, Sitka & Ketchikan! There is a brief stop in Victoria, B.C as well! Head over to
Quilt Seminars at Sea
to check out all of the cruises available and get more information on the two that we are participating in!
June 27- July 1, 2013 - Bernina University
Every year Bernina hosts all of their dealers for a week of seminars, hands-on classes & of course introductions to new Bernina machines and accessories! This year we get to go to San Fransisco for Bernina University. We will of course have a "Whats New from BU" when we return!
Whew! I'm tired already thinking about all of the things that 2013 will bring!
And, now that you are thinking about all of these things, just a reminder that we will be closing at 5pm today!
Enjoy the last day of 2012, be safe and we will see you in 2013!
Enjoli & the Team Members at SLH