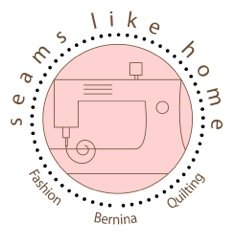 Hello SLH Followers,
Welcome to the last week before Christmas! If you are like me you are still trying to finish up a few Christmas gifts! If you are still looking for some last minute stocking stuffers, make sure to keep an eye on our Countdown to Christmas promotion. Today's featured item is:
The Raining Cats & Dogs Quilt Kit!
It is normally $150.00 but today you can get it for just $75.00. There are only 8 of them though so come by early in the day if you want one!
New Programs in the New Year
Buck-A-Block
We will be starting a new program in the new year called Buck-a-Block. If you are in our Saturday Sampler program you have heard about it already, and it is similar to how Saturday Sampler works. The Buck-a-Block program has four color options; Animal print, batik, jewel tone and forget-me-not. The block are made with Thangles, a product to give you crisp, clean and super easy half square triangles.
When you sign up you pay $10, this gets you your entire year of Thangles and your January block. After January, just come in sometime during the month to pick up your block and pay just $1! There are a few rules to the game, which you can find on our
Buck-a-Block
page.
This program has been very popular and there are only a few spots left in each color run. You can see the Animal Print top and the block samples if you follow the link above!
Saturday Sampler
We will be starting new color runs of our Saturday Sampler program in January as well. We have Batik, Traditional Christmas, Fall & Chabby Chic color runs. They are all beautiful! You pay just $40 per color run and as long as you show up each session with your block complete, you get 12 blocks for $40! You can call or come in to sign up and choose your color run and time slot.
Check out the color runs here!
Bernina Holiday Specials
if you are in the market for a new sewing machine this holiday season, or as a gift for someone else, here are a few promotions to be aware of:
Today is the last day to get a Bernette 46 for $149!
12/21-12/31 is 20% off MSRP on EditorPlus & DesignerPlus!
1/4-1/7 is 25% off Isacord Thread when you fill a 30 spool box!
Even though some of these don't start until after Christmas, they still make great gifts! A gift card or note with a promise for 30 spools of Isacord is any embroiders dream! You could even buy them one spool, hang it on the tree with a note saying "30 more where this came from!". Who wouldn't love that...I may have to drop some hints to some people in my life!
New Classes & Events
Our new classes and events schedule will be out on January 1st, and let me just tell you now, there are some awesome classes coming up! We have such great teacher and staff teachers who really enjoy teaching and want to make sure you all have fun classes to take. Our samples will be hanging on the first and sign ups will be open.
We will be having our class sale weekend on January 18, 19 & 20, where you can get 20% off class sign up fees and supplies! I hope you are all looking as forward to the new year as I am!
We hope you have a Merry Christmas!
Enjoli & the Team Members at SLH