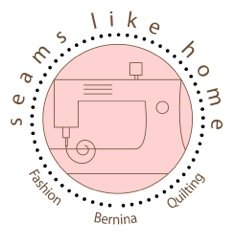 SLH Followers,
Happy Holidays!
During the Holidays I am always reminded of how lucky I am to have a healthy, happy family, and to have all of my family live close by! That includes my SLH family, my fellow team members and all of you, our wonderful customers! We love that we can share of our family with you and be part of yours as well. And in the sharing spirit, I wanted to share the biggest news in our household this weekend: SANTA IS HERE!
Alia got to see Santa this weekend and boy was she excited! It's a good thing Santa has a spacious lap, because we filled it up a bit more this year! Hope this brings a smile to your face, as it does mine!
Merry Christmas from our Family to yours!
SEW IT FORWARD
Do you have an old sewing machine sitting around that you aren't using? Are you looking to upgrade your machine?
Well look no further, you can donate your old machine (working or not!) and receive a $300 credit toward the purchase of a new machine! We clean up the working machines and donate them to a local charity that can use them! It is a win win for all since you get a shiny new machine out of the deal and we can help people in need by donating them!
Talk to our staff for more information or come by and donate your old machine today!
Countdown to Christmas
Don't forget our Countdown to Christmas Promotion, there are some great stocking stuffer items on special (and even some bigger items). Every day this month, until Christmas Eve, we will post a new special everyday (on our website). Each day there will only be a limited number of the item for the special price so make sure that you come in early if you want that days item!
Looking forward to seeing you in the store,
Enjoli & the Team Members at SLH