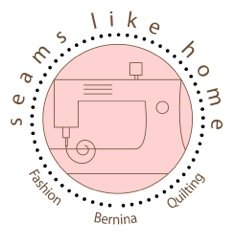 SLH Follwers,
Well, I'm going to just come out and say it... its Holiday Season! Don't be surprised if you hear Christmas music playing in the store (Angelyn has gotten to the CD's and we seem to only be able to find Christmas music!). We have some great holiday fabric if you are working on stockings or other holiday projects!
As most of you are aware, this is the time of the year when I start working on the new class schedule for January thru June. I was able to get my hands on a few sneak previews for you. It is still a bit early for me to have new completed samples, but here you go!
Ok, so this one is part sneak preview and part contest! :) The project is from this book, and the fabric colors are your clues! The first person to correctly identify the project will get to take the class for free. In order to win, you will have to respond to this email with the correct answer! And no fair asking the staff for help! I will email the winner once I get a correct answer!
This little beauty is one of many you will get to make in this Dresden technique class taught by Angelyn.
We are going to have a lot of great classes starting in January so make sure to stay tuned for the class release, which will be January 1st!
Saturday Sampler for 2013
Many of you already participate in our Saturday Sampler program, but if you haven't here is how it works.
We offer four color runs (batik, christmas, pastel & fall colors). You can choose one color run or all four. They are $40 per color run. You choose your session; Friday night at 6:30pm or 7:30pm or Saturday at 8:30am or 9:30am.
You must show up to your chosen session on time and with your previous months block completed. January is the only exception because you won't have received a block yet. Maret will show you new products and fabric and tips on how to construct that months block. You will then pick up your block on the way out of your session.
As long as you get your block completed and show up on time to your designated session, you will get all 12 months worth of blocks for just $40! There will be a template set you will need. For 2013 we will be using template set L.
The color cards for 2013 will be released this Friday (November 16) for you to see. Just to warn you I already want to do two of the color runs. Could be a busy year for me!
Call or visit the store to see the choices and sign up!
Technical Department Status
As of today, Monday, November 12 the SLH technical department has: 15 machines in queue, 2 machines waiting for parts and one machine on the bench.
Please make sure that if you would like your machine cleaned or serviced in preparation for holiday sewing you call in and get put on our wait list. We are looking at a 2-3 week turn around right now, but if you are on our list you can keep your machine until we call you to bring it in. This way you can keep on cranking out Christmas projects while you wait!
We appreciate your decision to shop at Seams Like Home, and the trust you express by allowing us to service your sewing machine.
Looking forward to seeing you in the store,
Enjoli & the Team Members at SLH