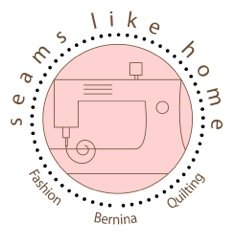 Hello SLH Followers,
Happy November!
Looks like we have colder days, darker mornings and the beginning of the holiday season to look forward to!
I'm sure you're all getting started (or finishing up) your christmas projects. I'm one of the "starting soon" people!
Repair Department News
Just as a reminder, the holiday season tends to be when machine issues arise. We are looking at about 3 weeks out these days. Please make sure that you call in and get put on our wait list. We will call you when your turn comes up. That way you can keep on sewing while you are waiting.
Today's repair status:
Machines waiting - 17
Machines on Bench - 2
Waiting on Parts - 2
New Fabrics
If you need some inspiration for your holiday sewing or just want to surround yourself with some beautiful fabric, come by to check out our new selection of batiks. We also have the new Bali Pops in stock. However, I know that one color run has sold out already. Not to worry though, we have more on order!
So many beautiful batiks! I love love love them! I want to buy them all! And don't even get me started on the Bali Pops. In fact, I think Sara did buy them all!
So pretty! Actually you need to come see them in person.. of course then you won't be able to resist and then there won't be any left for me!
DesignWorks Software Suite
Check it Out!! Bernina has released an amazing software suite that includes PaintWorks, CrystalWorks and CutWork! Each of these softwares does something different with your Bernina Embroidery module.
With PaintWorks you simply put your paint tool onto your machine, insert the pen (color of your choice), hit the start button and watch the machine paint out your "embroidery" design.
With CrystalWorks, you can create your own or a pre-made crystal template to apply "hot-fix" crystals to your embroidery or PaintWorks project! (You'll want to watch this one in action to get the whole picture!)
With CutWork you can load up your "cut" design, insert your knife tool and let your embroidery module do all of your applique cutting work for you!
These tools and softwares really are amazing! Check out the links to see how they all work!
PaintWorks
CrystalWorks
CutWork
Come into the store to see these amazing tools at work.
You will be amazed at the possibilities these will open for your creations!
Looking forward to seeing you in the store,
Enjoli & the Team Members at SLH