New Class & Super Savings Day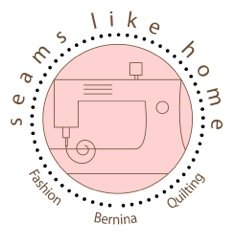 Hello SLH Followers,
I hope you are all enjoying our Fall! I am working on holiday projects and getting excited for *snow*! I know I shouldn't say the "S" word but I think I would prefer it to all this rain! We have also been getting all sorts of fun gifty items in that would make great stocking stuffers for the fellow quilters in your life!
HOLIDAY NAPKINS - NEW CLASS!!
Monday, October 29 6:00-8:30pm
For those of you who have seen the wonderful table runner and placemats that Debby made, these napkins complete the set. She is offering this class to you for only $20. You can make them to coordinate with your set, or just make a few to go with your everyday table decor. Whatever you choose, these quick napkins will dress up your table and earn you lots of compliments!
AND don't forget we have a super fun Halloween paper piecing class coming up this weekend!
FRANKEN-PIECING
Saturday, October 13 & 20 2:00-6:00pm
Oh so cute Mr. Frankenstein with Flower! Not only is he cute, but he's made up of larger pieces so he is easy to put together. He makes a great all year friend or make him up as a Halloween greeter!
Bold, colorful, and stunning geometric designs with flying geese galore – that's how you know you're looking at one of Gail's quilts! Her style has become immediately recognizable because of her talent for combing vivid colors with intricate piecework. Her geometric star quilts and pictorial quilts have won awards at shows throughout the U.S. and have been featured in publications worldwide. Students love her ability to make these designs achievable even for novice quilt designers.

Check out the details on this retreat by clicking on the title above. This project is amazing and sure to be fun! Not only do you get to make a beautiful project but you get to stay in breathtaking Hailibut Cove, AK!

This retreat is Wednesday, June 5 thru Sunday, June 9th, 2013!


ARE YOU LOOKING TO BUY A NEW SEWING MACHINE?




Next week may just be the right time to buy one! Bernina is offering this Super Savings Days Promotion, and it doesn't get much better than this! This promotion is good for the new Bernina 7 Series machines, so if you've been considering one, come in and play on the 780 and talk to us about how you can take on home!

We look forward to seeing you in the store,
Enjoli & the Team Members at SLH