Happy October!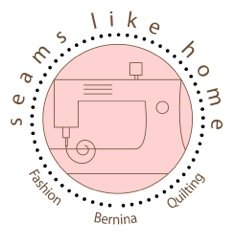 Hello SLH Followers,
Welcome to our crisp, frosty (probably snowy..sorry) October! My yard looks like an explosion of yellow leaves, reminding me that it's time to rake. I guess I had better get a move on before they are burried in snow.
About this time of year I start getting excited for the snowy weather to hit so that I can start thinking/working on/procastinating on holiday projects! It also becomes sweater weather and of course the building excitement for the holidays!
The other big plus is that the store always looks so fun and festive during the Holidays. We get to put up decorations, and of course, my sister makes us start listening to Christmas music the day after Thanksgiving! But, the best part for me is that Christmas really does start early for us at the store because we keep getting new fabrics!
Here are some of the new things we've just received:
Merry Christmas Gnomes Fun Flannels

Sara Jane "Out to Sea"
(I'm thinking that the map fabric would make an awesome shower curtain for the girls' bathroom)
More Wintery Flannel - looks (and feels) so cozy!
Ohh la lah.. Michael Miller Chevron Stripes & Couture Cottons!
OH MY!! I love them all! I can think of projects for all of these fabrics. Now I just need to find a willing victim to take my children so I can get these projects done!
In other exciting news, we have our first 7 Series machine in the store. My sister, mom and I are all fighting over who gets to play on it the most! It really is an amazing sewing machine! Not to mention, the new software suite that Bernina just realeased, DesignWorks. The 7 Series and the DesignWorks software suite are meant to be together (and I want both of them!). Here is a peak at the machine and some of its very cool functions.
Let me introduce you to the Bernina 780! Notice the larger throat area!! You get 10" of space in there!!
(I'm smiling in excitement as I write this..luckily its just me and the babies.. and they're both asleep!)
The new Bernina 9 Hook. This is an all new bobbin system for this machine. Bernina has taken all of the best features of a CB hook and a Rotary hook and combined them into one "Jumbo Bobbin, Hook of Awesomeness"! You really have to check this feature out in person. You will not believe its amazingness until you witness it first hand!
What an amazing touch screen!
You can tell this machine what foot you put on it, and it will set up its own safety features for using that foot. For example, if you put on a foot that only has a 5mm wide opening, it will not allow you to do a 9mm wide stitch. Pretty cool huh?!
If you are interested in checking out this machine, come on into the store. We'd be happy to show you even more amazing features and let you play on it! (Ask to see the "in machine" movie!)
If you are interested in seeing what the DesignWorks Software is all about, head over to
our Facebook page
where you can see the video of the PaintWorks & CrystalWorks tools in action!
There are so many exciting things happening in the store right now! Come in and have some fun!
We look forward to seeing you,
Enjoli & the Team Members at SLH