Halloween projects... too early?!
Hello SLH Followers,
Is it too early to start thinking about Halloween?! I hope not because I've already been buying Halloween items! It's also about time I started getting to work on Alia's pirate costume!
For those of you who want a fun, fast halloween door hanger.. this is what I did with my halloween fabric scraps. I bought the little bat sign at Micheals for $1.50!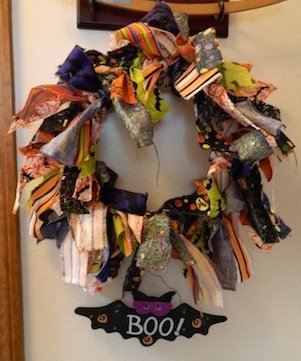 The foam wreath was $7.00 at Micheals and I had a bunch of scraps of Halloween fabric! Think of it as a rag time wreath! I need to attach a hanger to it and then it can liven up my front door! Happy Halloween season!
And in light of Halloween drawing near.. stop by the store to take advantage of the Bernina Spellbinding Savings promotion starting this week! If you've been thinking about a new machine, now is the time to buy! Depending on which model you select, you could save up to $500.
Stop by the store this week to take advantage of this great promotion (and to pick up your brochure for the savings coupons).
Classes coming up this week!
Embellishments #5: Paintstiks
Keeping the Faith (a strip pieced cross)
You will want to check out both of these classes! Carol has so much fun in her embellishment series and students always leave inspired. Jeannie is our newest teacher and the one teaching Keeping the Faith. If you haven't seen this quilt in person you need to! With strip piecing as the featured technique you can focus on having fun with your color choices.
Click on the links above for more information on these classes!
Attention Saturday Sampler Participants!

Just a reminder that Saturday Sampler is always the 3rd Saturday of the month and the Friday before it. This month it will be September 14th & 15th, which is this coming weekend!

Also, I will be brining the Twinsies to the Saturday morning sessions this month so feel free to come by and meet them!

Looking forward to seeing you in the store,
Enjoli & the Team Members at SLH