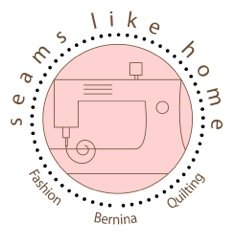 Hello SLH Followers,
Upcoming classes for the Week of September 3-September 9, 2012
(Click on the class for more information)
-
Fearless Machine Quilting 1
-
Bernina Club
-
Software Sampler
-
Snow Skirt
-
Focus on Feet
-
All About ME
-
Kids Club
Two more spots need to be filled in the Beginning Paper Piecing class in order for it to go! So, if you are one of the ones signed up already get a friend to sign up and learn a new technique with you!
Click here
to find out more information on Beginning Paper Piecing!
Valdez Quilt Festival
September 6-9, 2012
Are you going to the Valdez Quilt Festival?!
We are!
And we are taking our fabulous Bernina sewing machines to rent to those of you coming from far away.. or those of you who would rather not haul your machine to Valdez. If you are interested in renting a machine, give us a call at the store, ask for Sara or Angelyn. We will be bringing a few different levels of machines but in order to ensure that we have a machine for you to use, we prefer advance notice!
To learn more or sign up for the Festival visit
www.valdezquiltfestival.com
.
New Fabrics In Store
Mr. & Mrs. Potato Head
Mr. Potato Head - "I love Carbs"
Motorcylces
I'm thinking that our household will need something (not sure what yet) made out of Mr. Potato Head Fabric! Maybe a toy basket or laundry basket liner.. that would be cute huh?! Even a little bag to hold all of Mr. & Mrs. Potato Head parts after they are opened would be cute!
And I think hubby might need a new pillowcase or two with the new motorycycle fabric!
Twin Update
We are all doing well this week! Ascher & Avalyn are good eaters and let Mommy & Daddy sleep for 3-4 hour stretches at night! They may come to Saturday Sampler this month (Sarurday morning 9:30am session!) so if you haven't had a chance to meet them yet, that would be a good time!
Looking forward to seeing you in the store,
Enjoli & the Team Members at SLH