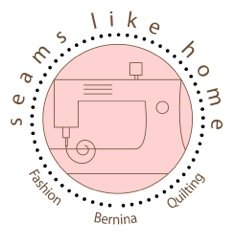 Hello SLH Followers,
Well I am happy to say that we have some blue sky out there today! Since I'm on leave right now with the girls I may take advantage and go for a walk! I know some of you got to see the girls in the store last week but for those of you who didn't, let me brag on my cute girls for a minute and show you some pictures!
(I also have a blog for the twins, telling about their pregnancy and birth. If you're like me and like hearing birth stories, theirs is on the blog-
www.oneplusdoubletrouble.blogspot.com
)
Well besides loving on my sweet girls, I have been getting excited about my holiday sewing projects! We have some really adorable Halloween fabric in the store right now. I have a table runner and door hanger in the works.
Some of you may recognize this pattern. We are offering it as a class this session. The class is called the
"Easy Striped Tablerunner"
taught by Debby Carter! You can also make this pattern into placemats (also a class this session).
I also just got some fabric for a paper pieced runner in Christmas colors! It is the Judy Neimeyer pattern "Dining with the Stars" which was taught at the store this past weekend by our guest teacher Sue Wilson! I promise pictures of it when I get started!
Spellbinding Savings
For those of you who are in the market for a new sewing machine this "holiday" season, Bernina is running their Spellbinding Savings promotion right now with some great deals!
(You will need the coupons inside the pictured flyer to take advantage of the deals, so make sure you stop by the store and pick one up!)
Not only do you get some great coupons, but you get information on eight different projects that you can create at home! These offers are valid September 13-24 so make sure you come in and test drive the different models so that you can take your machine home before they're gone!
If you want my two cents worth (unfortunately since I get to write this you have to hear it anyway!), the B215 is an amazing deal and would make a great Christmas gift for a beginner sewer or someone looking for a great basic machine. And at $699 you can't beat the price for the level of machine you are getting. And don't forget you get classes with us teaching you the machine functions and basic at home cleaning. You also get a FREE first year servicing from our techinical department and any parts/labor needed within the first year.
Come in and talk to us about taking home one of these fabulous machines!
Looking forward to seeing you in the store,
Enjoli & the Team Members at SLH