Bernina News

An awesome promotion is coming up!
Don't miss out on this chance to get 60 months NO INTEREST, equal payment financing!
May Accessory Special!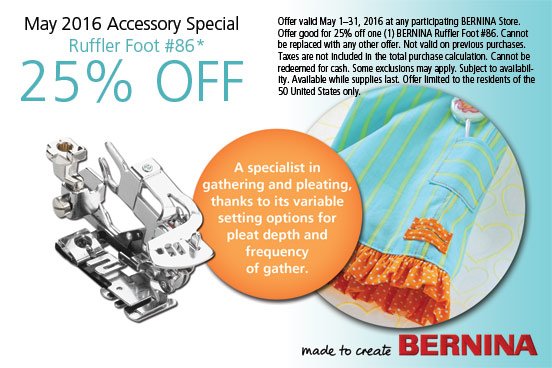 The Ruffler Foot #86 is on special for the month of May! Call or come in now to check it out and get 25% off!!!
Strip Club

Don't forget this Tuesday the 3rd is Strip Club!!
Madam Marcia will be presenting since Madam Maret is off in Germany!
Remember to bring you strip pieced projects for club bucks!
Well, I'm off to start the raking! I hope you all enjoy your sunny Monday!
What a great start to the week!
Check out next week's schedule
to see what classes are still available and what nights we are open after 7pm!
Monday - no class- close @ 7pm
Tuesday - Strip Club- close @ 7pm
Wednesday - no class-close @ 7pm
Thursday - Socks that Fit- close @ 9pm
Friday - no class- close @ 7pm