Hello's, Goodbye's and more goodies!!
Hello SLH Family,
Well Maret and Arlene are back from their grand adventure! Once they get through all of their laundry I'm sure there will be more amazing photos to share!!

This past week we also said 'Goodbye' to our amazing Katie. She moved home to Utah and will be greatly missed at SLH! We wish her the best of luck and hey, maybe we can plan a visit!!
On that note...


We're Hiring!
We're looking for a few more wonderful people to join our team!!
We're looking for team members who are available 4-5 days a week, enjoy a quick paced retail environment, and of course LOVE fabric! (among other things!)
If this sounds like a good fit for you or someone you know please send a resume to angelyn@akseams.com! Or come on into the store and grab an application!

Row by Row!

Row by Row patterns and kits are now available!!!
The hibernation period is over and you can now purchase these items from SLH!
Feel free to come into the store and pick them up or call from anywhere and have us mail them to you!



Just as a refresher- here is our row; a cute fishing quilter!!
Patterns are only $10.99 and Kits are $19.99
We also have license plates and Pins still available!
(these items are limited so make sure you get in soon for them!)


Bernina News

We have some GREAT deals going on in the store for Bernina's right now!!

If you are in the market for a new top of the line Bernina, you are in luck.
Call the shop to find out which ones and how much!
You could go home with a shiny new Bernina today!


We also have some great Trade In Bernina machines!

Up for grabs is a Bernina 830E machine and a Bernina 750 QE machine!
Both of these machine have been serviced by our technicians and come with Learn my Bernina classes just like the brand new ones! We honor the first year free cleaning for the new owner too!

B830E- ONLY $5000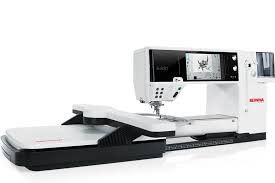 Yes, this awesome machine comes with the Embroidery module too!!


B750QE-ONLY $3500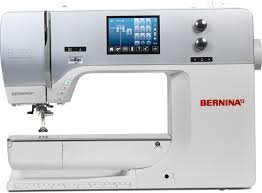 This machine come with the Bernina Stitch Regulator and is great for quilting!

Remember: these will be sold on a first come, first serve basis! So if you want it make sure you call or come in ASAP!!


New Kits!!
Hoffman Wild Animals!




These amazing kits come in the two color ways and are....LASER CUT!
Yes you heard me right, they are laser cut!! We have a limited supply coming so get on the list for one to make sure you get yours!!! These should be in the shop any day now!
( I know the pictures don't do them justice, but I promise you they are amazing!)

There are a lot more exciting things happening this fall, so stay tuned!!!

Also, a huge thank you to all of our amazing customers who offered their help, support or just kind words while I held down the fort while my mom and grandma were gone!! It means so much to have such wonderful customers who really feel like family some days!
I guess the store is appropriately named after all!!
:) Angelyn

Check out next week's schedule
to see what classes are still available and what nights we are open after 7pm!

Monday - Socks that Fit- close @ 8pm
Tuesday - Strip Club (6pm)- close @ 7pm
Wednesday -Eye Spy Quilt- close @ 8pm
Thursday - V7 part 2-close @ 8pm
Friday -Just for Me- close @ 8pm

We look forward to seeing you in the store,
Angelyn & the Team Members at SLH
Contact us by Phone @ 907.677.8790 OR by Email @ info@akseams.com