Exciting Things Are Happening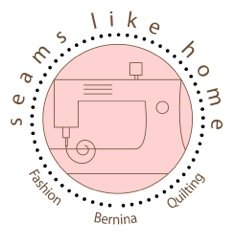 Hello SLH Family,



I think it is fairly safe to say that Fall has arrived and Winter is coming! Sadly that means less light and a bit more cold weather. However as quilters and sewers, we get to see the brighter side, as the snow and cold give us an excuse for more sewing time!! We have a lot of opportunities coming up (in the store) for more sewing time!

Mark your calendar for Alaska's first Sewapalooza!

For three fun filled days from 9am-4pm, Thursday-Saturday, October 23-25, we will be playing on Bernina sewing and Embroidery machines! The theme is "travel" ,so we will be creating a travel pillow, shoe sack, wristlet, sachet and a cord caddy! These are fun projects that showcase some amazing Bernina features! We will have special pricing on machines, door prizes, lunch and snacks plus a gift package valued over $80 just for attending! Price is $99 a day and each day is different!

Call the shoppe to sign up! 677-8790.



HALLOWEEN FABRIC SALE!



All Halloween fabric bolts are on sale!
Save 31% off any Halloween bolt marked with "H"!
Minimum 1 yard cut to receive the discount.
Plus ALL Halloween precuts, jelly rolls and layer cakes are also 31% off.
This spooktacular sale is through the month of October!

Stillpoint Lodge retreat with Sylvia Pippen, June 3-7, 2015

This retreat is filling up fast! Only 5 spots are available for this wonderful retreat! Sylvia Pippen's workshop, "Sashiko Quilting and Sun Prints" will be a one of a kind workshop designed just for Alaska.The retreat fee includes 4 nights lodging, all gourmet meals and snacks, workshop instruction, kayak and yoga lessons, transportation from Homer to Halibut Cove, tour of Gull Island, optional use of a Bernina Sewing machine and we'll schlep all your supplies down there plus a wonderful welcome bag from SLH all for only $1399. Check out the lodge at www.stillpointlodge.com!

Merry Kuspuk Moose Class




We still have a few spots left in the Kuspuk Moose Class!
Gertrude and I just picked up the Moda Modern Building Blocks Kit and OH MY! we are excited to get started! Head over for a preview of the kit, as well as some tips to help you along with yours!
Bernina News
This beautiful new Swiss Edition 530 has arrived at the shop! Come by to check it out today! It comes with an awesome Quilters Accessory kit, which includes the #37 foot, Bernina 3 Sole Walking Foot, Bernina Stitch Regulator & Bernina Magnifier attachment! This machine is such a great deal. Call the store for more info!


This great new Bernette machine is not just cute, but very practical at a nice entry level price point! And $20 from each machine purchase goes to the Breast Cancer Research Foundation! Buying this machine is a Win Win for all!

PFD Machine Specials

We have a few machines on a SUPER PFD Special! If you are in the market for a great new machine, or a nice take to class machine, now is the time to get one!

The Bernina 215 is on special, and comes with all standard accessories, plus the #20 Open Embroidery Foot, #37 Patchwork Foot and a $35 SLH Gift Card!

We have the Bernina 350 on special, and comes with alll standard accessories, plus the #8 Jeans Foot, #23 Applique Foot, #9 Darning Foot & a $100 SLH Gift Card!

Take advantage of these great specials, good through the end of October!


Check out next week's schedule
to see what classes are still available and what nights we are open after 7pm!
Monday - Beginning Sewing 101 (FULL) - close @ 8:30 pm
Tuesday - Night Sky Quilt (Last Class) - close @ 8:30 pm
Wednesday - close @ 7:00 pm
Thursday - close @ 7:00 pm
Friday - close @ 7:00 pm

We look forward to seeing you in the store,
Enjoli & the Team Members at SLH