Cotton & Steel has arrived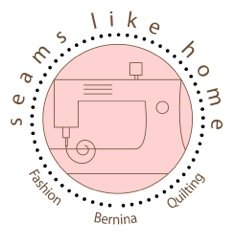 Hello SLH Family,



For those of you who went to Valdez, I hope you've now recovered! It is always a little bit crazy getting back into the swing of things after those kinds of trips! We have boxed to unpack and orders to ship. Luckily, we have awesome, hard working staff who get it done!

By Wednesday, just as the Valdez boxes were put away, we got a delivery of fabric! No complaints here though, in those boxes was our line of Cotton & Steel!




And I'm sure not minutes after those were unpacked did a delivery truck show up with Bernina Sewing machines for us!

I feel like it is already Christmas around SLH!

SEWAPALOOZA!

Mark your calendar for Alaska's first Sewapalooza!

For three fun filled days from 9am-4pm, Thursday-Saturday, October 23-25, we will be playing on Bernina sewing and Embroidery machines! The theme is "travel" ,so we will be creating a travel pillow, shoe sac, wristlet, sachet and a cord caddy! These are fun projects that showcase some amazing Bernina features! We will have special pricing on machines, door prizes, lunch and snacks plus a gift package valued over $80 just for attending! Price is $99 a day and each day is different!

Call the shoppe to sign up!

What is Gertrude up to this week?!
Gertrude is again cramming a few projects into the next few days, for Enjoli's next trip!
Bernina News

Today is the last day to take advantage of 25% off Presser Feet!



Call us today for more information on this AMAZING machine!


Check out next week's schedule
to see what classes are still available and what nights we are open after 7pm!
Monday - Easy Peasy Triangles #1 - close @ 8:30 pm
Tuesday - Night Sky Quilt - close @ 8:30 pm
Wednesday - Jaybird Mini Radio Way - close @ 8:30 pm
Thursday - close @ 7:00 pm
Friday - Saturday Sampler - close @ 7:30 pm
Saturday- Saturday Sampler/Jacobean Journey - close @ 6:00pm
Sunday - close @ 5:00 pm

We look forward to seeing you in the store,
Enjoli & the Team Members at SLH