New Classes & More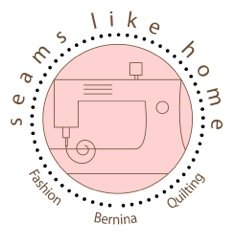 Hello SLH Family,



Well the new Class Session is upon us! Our teachers and staff have been working hard (mostly in the last week) to finish up samples and finalize paperwork for the new class session! We have some great classes coming up, and can't wait to get them started! Due to our expected move in November/December, this session will end just before Thanksgiving this year. There may be a few classes lingering into early December, but since we aren't settled on a definite move date, we've tried to have classes finish up before the holidays.

Head over to the website to preview our classes. Some photos are still coming, but dates and descriptions are available.
Class Sale & Sign ups open on Friday, August 1 and go through Sunday, August 3rd!
Stop by to get 20% off class fees and supplies!

What is Gertrude up to this week?!

Gertrude and I have been madly sewing away, prepping samples for the New Class Session - head over for a sneak peak of some classes!
Bernina News
CHECK OUT THE NEW #97D FOOT!


This foot is a MUST HAVE for all of you 9mm machine owners. This is the #37 foot (on steroids.. no not really), but wider on the left side of the foot to cover both feed dogs. This will help prevent that "spinning the wheels" feeling you get when trying to start sewing with the other patchwork feet on the 9mm machines. We have limited stock right now, so call and reserve yours before we're out. (Not to worry, we'll get more, but if you're like me you are going to NEED it now!)





Are you an embroidery fanatic?! This webinar might just be for you!
Click the Icon above to join this webinar on Tuesday July 29th!


Bernina University - WHATS NEW!

Check out this video by Heirloom Creations to learn more about the new products we saw at BU!
(Yes, there is a whole section on the new Bernina Long Arm- ohh la la.. I was drooling!)

CLICK HERE!


Building UPDATE!
We have Walls!




(I think a few of us are getting excited!)



Check out next week's schedule
to see what classes are still available and what nights we are open after 7pm!
Monday - close @ 7 pm
Tuesday -

close @ 7 pm


Wednesday -

close @ 7 pm


Thursday -

close @ 7 pm


Friday -

CLASS SIGN UPS & SALE OPEN

-

close @ 7 pm



We look forward to seeing you in the store,
Enjoli & the Team Members at SLH