Amazing Machines, Books & Classes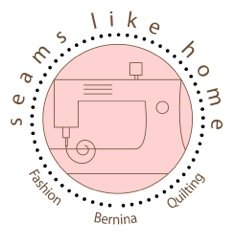 Hello SLH Family,

I hope you all had a restful weekend.. I am still recovering from mine! We attempted our first camping trip with the kids, which turned out to be a complete fail! The twins just would not sleep..so you can imagine how the rest of the trip went! We ended up coming home early. The silver lining was that I got a lot of driving time (between Anchorage and Homer and back) to work on a new English paper piecing project! My first set of hexagons for a "whole-cloth" project!




(This was of course one of the rare "everyone is quiet and nobody needs anything" moments during the drive! Hopefully you'll get a preview of the finished product next week!)

New Must-Have Books




These two books are NEW and wonderful!
Keep an eye out for a new Free-Motion Class Series using the Angela Walters Workbook!



June Strip Club Kits!


A few little birdies told me that we have some Strip Club Kits still available if you were there and want more, or if you fall in love with the quilt once you see it .. come by to check it out! It has been done in red, white & blue; just in time for a 4th of July decoration!



KIDS SUMMER CAMP


And don't forget, if you have a kiddo who wants to learn to sew or expand on their current skills, we still have room in the Kids Camp!

Click HERE for more info!

What is Gertrude up to this week?!

Gertrude had a lonely weekend at home.. but check out what I was up to!
Bernina News
The Amazing 380 Bundle


Get the Bernina 380 plus..

- #50 Walking Foot
- #37 Patchwork 1/4" Foot
- #10 Edge stitch Foot
#26 Free Motion Foot
- Single hole stitch plate
- Extra pack of 5 bobbins
- Red Bernina Bobbin Saver
- Medium Rolling Tutto Bag

* Qualifies for the Bernina 60 Month Financing Offer! Call or stop by for more information on how to take this "bundle of joy" home!

OR

If you are in the market for another Bernina machine, you can take advantage of the current 0% financing offer to bring home your dream machine today!





Snow Wrap & Snow Skirt Classes
almost full - only two spots left in each class




Have you been wanting to make a Snow Skirt or Snow Wrap? Now is your chance. You can make it and FINISH it before the snow even falls!

More info HERE and HERE!


Check out next week's schedule
to see what classes are still available and what nights we are open after 7pm!
Monday - close at 7:00 pm
Tuesday - close at 7:00 pm
Wednesday - close at 7:00 pm
Thursday - close at 7:00 pm
Friday - close at 7:00 pm

We look forward to seeing you in the store,
Enjoli & the Team Members at SLH