New Fabric & Wonders of the E16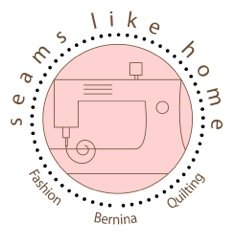 Hello SLH Family,
Well, May sure has gone by quickly.. it has left me wondering if that was all we were getting for summer?! Ah well, I have A LOT of sewing projects to catch up on!
New Fabric
Adorable new "outdoorsy" kid line!
Moda Grunge..all I can say is "LOVE!" & P.S: We have jelly rolls of this line!
We have so many great fabrics coming from Market so stay tuned for email updates about when those arrive!
New Bernina E16
Angelyn and I have just returned from Denver where we were training on the new Bernina E16 Embroidery Machine. That means 16 needles! More importantly that means 16 beautiful colors loaded up to embroider without any manual color changes! Oooohhhhh!! If you were keeping up on our Facebook page, you got to see the sneak preview already. If not, you better head over to our Facebook page and check it out! There is even a video of the machine embroidering a hat!
After being away for a week, Gertrude may be a bit jealous of the new machine that was getting all of my attention!

Find out more about the wonders of the new Bernina E16!


Bernina News
Looking for some quick stats on the new E16?!
Don't forget that you can use this 60 month financing for any Bernina machine over $3000! So if you have been admiring Gertrude from afar, now is the time to take home one of her sisters!
Looking for a fun Summer Camp for your kids?

We have the answer! We have two sessions of our Kids Camp coming up in June!
Choose your session: 9am-12pm or 1pm-4pm and call the store to sign up.

This great camp is only $159!
They will be making a Quillo, a decorative pillow and a pillow case!
Get your supply list HERE!
Check out next week's schedule
to see what classes are still available and what nights we are open after 7pm!

Monday - close at 7:30 pm
Tuesday -

Strip Club @ 6:00 pm

; close at 7:30 pm
Wednesday - close at 7:00 pm
Thursday - close at 7:00 pm
Friday - close at 7:00 pm

We look forward to seeing you in the store,
Enjoli & the Team Members at SLH