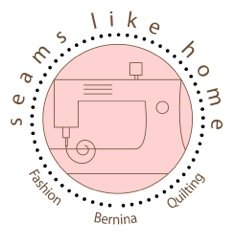 Hello SLH Followers,


SLH BLOG
Take a peek at our blog! After over a year we've finally posted! AND
that's where we're sharing our big super secret news! So if you haven't made it into the store this last week click over there to find out what's going on! Be sure to follow us on our blog to keep up with the news about the changes at Seams Like Home!
akseams.blogspot.com
Silk Painting Workshop
There are amazing classes being offered for one weekend only at Seams Like Home!

On October 19th & 20th we are having a Silk Painting Workshop!

Intro to Silk Painting $125
On Saturday October 19th at 10:30am-5pm, Kerry will introduce you to the basics of silk dying. You will be able to create a beautiful silk pillow case, dye fabric for a quilt and complete 2 silk hankies. The holidays are coming and what better gift than something handmade!


Continuation to Silk Painting $125
On Sunday October 20th at 10:30am-5pm you will be ready to move beyond the basics! You will learn resist dying and painting techniques while creating a beautiful silk scarf and a watercolor scene on a silk hankie. The silk hankies can matted and framed just like a picture or used in a fiber art piece. Kerry will have patterns for you to trace or you may create your own artistic scenes.


Kits and most supplies are included with both of the classes.

Check out Kerry's website for ideas!

www.softlysilk.com


More Classes at SLH
!



Super Tote - Happening TONIGHT & Tomorrow! $45




Friday September 27th at 6pm-8pm & Saturday September 28th at 10:30-3:30pm


This "super tote" makes a great travel bag, whether you're traveling near or far you will be able to carry everything you need in this bag. With four inside pockets, one large outside pocket and a recessed zipper closure you will be sure everything will stay in its place. This bag is beginner friendly and the zipper technique is so easy!





Honey Quilt $65




Tuesdays, October 1st, 15th, 22nd, & 29th at 5:30pm-8:30pm


Templates, skinny sashing and your favorite color; that's all you need to have fun with this fresh and modern quilt. You will learn how to cut using a template, and how to work with super skinny sashing without pulling your hair out. To make it even more fun, choose your solid fabrics in shades of your favorite colors.


Layer Cake Quilt $35

Saturday October 5th 10:30-2:30pm
In the

Layer Cake class

you will be making a 10-minute block quilt using a pre-cut layer cake. This quilt goes together very quickly and looks great. Simple enough for beginning quilters. You may be able to complete this quilt top during the class time!

Embroidery Software Version 7 Introduction

Saturday October 5th 3-5pm

Learn all about it during this Version 7 class! Don't have embroidery software? No problem! Come and see the new features that will entice you to join the world of embroidery! If you have software already, you won't want to miss all the new features of version 7!
There is $10 event fee... BUT you'll receive a $15 gift card for attending! Special software pricing for attendess only! You won't want to miss this!
Inventory Reduction Sale
Don't worry if you haven't made it by the store this week, our inveontory reduction sale is still on and going strong! And if you did stop by, we're adding new fabrics weekly so keep checking back to see what's new! Fabrics (one yard cut minimum, 40% if you finish the bolt), books, notions and other miscellaneous items are 30% off!

Check out next week's schedule
to see what

classes

are still available and what nights we are open after 7pm
Monday 9/30:
Beginning Sewing 101 (class already started) Open until 8:30pm
Tuesday 10/1:
Honey Quilt (still spots left) Open until 8:30pm
Wednesday 10/2:
No class - Closed at 7pm
Thursday 10/3:
No class - Closed at 7pm
Friday 10/4:
No class - Closed at 7pm
We look forward to seeing you in the store,
Sara & the Team Members at SLH