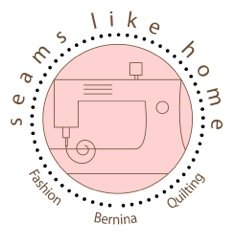 Hello SLH Followers,
Good things are happening at Seams Like Home and it benefits all of us!
We've been moving fabric around to prepare for the beginning of a fantastic sale!
This Friday, September 20th, we are starting our inventory reduction sale with 30% off select fabric (minimum 1 yard cut), notions, patterns, books and miscellaneous great stuff! This is not just a one day sale! We will be adding to the sale shelves weekly!
Hmmm....wonder what's going on?! Well, you will just have to come by the store on Friday to find out!
Embroidery Software Version 7 is coming!
Learn all about it during this Version 7 class! Don't have software? No problem! Come and see the new features that will entice you to join the world of embroidery! If you have software already, you won't want to miss all the new features of version 7!
$10 event fee...but you'll receive a $15 gift card for attending! Special software pricing for attendees only! Call the shoppe and sign up today! You won't want to miss this!
Saturday, October 5, 3-5pm
Check out next week's schedule
to see what classes are still available and what nights we are open after 7pm

Monday 9/23:
Beginning Sewing 101 (full class, open until 8:30pm)
Tuesday 9/24:
No Classes (closing at regular time)
Wednesday 9/25:
Diaper Making (class already started, open until 8pm)
Thursday 9/26:
Machine Care 101 (open until 8pm)
Friday 9/27:
Super Tote (still room to sign up, closing at regular time)
We look forward to seeing you in the store,
Sara & the Team Members at SLH