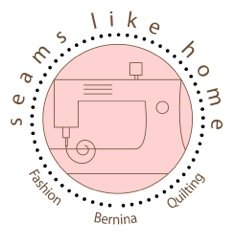 Hello SLH Followers,
I hope you have all been enjoying the rain, and of course the Alaska State Fair! We are headed out today to enjoy some rides and fried foods! If any of you made it over to look at the Quilts you may have seen a certain Buckeyes quilt that came from an original pattern out of our shop!
I have yet to find out who the owner is, but I will look today! I'm just so thrilled that my pattern (it's Enjoli!) made it into the fair! It's so exciting! If any of you are interested in making one, we do have it offered as a
class this session
, taught by Cheryl Campbell. The class and pattern are called Football Fanatic. You can find the pattern
HERE
or on our website under Free Patterns!
In other news..
FABRIC SALE
We all know it happens. Some of us are prepared, while others always seem surprised. Yes, the holidays will be here soon and we are here to help!
Sew...All Christmas and Halloween fabric, books and patterns are discounted 25% beginning this Friday, August 30-through Monday, September 2! You'll want to come in early for the best selection!
NEW FABRIC
We are expecting A LOT of new Polar Fleece in the next week, just in time for Winter and Holiday sewing! I know some of you, like me are maybe a bit in denial still that Winter is coming.. but at least with all the new wonderful polar fleece we're getting it will be a bit more tolerable!
If you are having any rainy day blues, but on your rain boots and coat and come in and shop! I know buying fabric always makes me feel better!
We look forward to seeing you in the store,
Enjoli & the Team Members at SLH