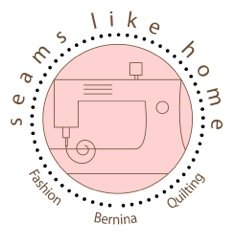 Ahoy SLH Followers,
We've made it back from our Alaska Cruise! We were lucky and the sunny weather held out for us! We went to Juneau, Sitka & Ketchikan; what a beautiful state we live in!
This was our ship, the ms Westerdam! We were lucky to have great students and teachers. We sailed with Melinda Bula, Christine Porter, Kimberly Einmo and Laura Wasilowski! If you want to come on the next cruise with us, check out
www.quiltcruises.com
for more information! (the Caribbean is next on the list!)
We had a great set up for our on-board store.
What a fun experience! We met some wonderful ladies from all over the United States and some from outside the U.S.!
And now we are off to Bernina University in San Francisco!
Every year Bernina gathers all of their dealers from around the world for Bernina Universtiy; BU as we call it is a chance for all of us dealers to learn about the new products being released during the year. We get to play with new products, learn new techniques and get more training on repairing machines.
We always have a great time and come back ready to share new exciting things with all of you! Maret, Angelyn and I will be heading to San Francisco on thursday morning and will be sure to post some sneak peaks for you. Stay tuned in by visiting our Facebook page during the next week!
For those of you who are in the market for a new sewing machines, we have an
AMAZING special on our Bernina 350PE machines
. (These guys went on the cruise with us, so have been loved a bit already!) This special is so good that I think I will have to participate. It is such a good deal (and I have other machines that work great.. I just can't pass this up)!
So, here is what you get in the box:
- an AMAZING 350PE sewing machine
- a Bernina Walking Foot (all three soles) - purchased separately would cost close to $300!
- the awesome Bernina #29 foot (for Free-Motion quilting)
- First Year FREE machine cleaning
- Learning My Bernina machines classes (we teach you what all the buttons do!)
- all service work is done in our shop!
GIve us a call today, this special won't last long and you don't want to miss out! These machines are on their way back from Seattle as we speak, but you will want to claim one now before they are gone!
In fact, I may have to go claim mine and hand over my money before I take off for San Francisco!
New Fabric
In other fabric related news,
we just received a new line from Moda called Isicle Stars.
Come in, check out our new fabrics and get out of this heat!
(Big smiles, I love this weather though it does make it hard to me to get any sewing done!)
2014 Still Point Lodge/ Seams Like Home Retreat
And for those of you who have been hearing about how wonderful the Still Point Lodge retreats are, we do have a few spots left in the 2014 Retreat. We are bringing up Kathy McNeil who does amazing pictoral quilts. Check her out at
www.kathymcneilquilts.com
. The retreat is June 4-8, 2014 in Halibut Cove, AK!
Thank you for choosing to shop at Seams Like Home!
We look forward to seeing you in the store,
Enjoli & the Team Members at SLH