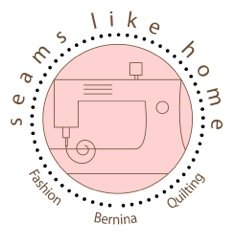 Hello SLH Followers,
I hope you are all enjoying the sunshine, I sure am!
Last week the participants in the Gail Garber Retreat enjoyed the sunshine in beautiful Halibut Cove, AK!
Isn't it gorgeous?!
They sure look hard at work, don't they?!
Stay tuned if you would like to participate in future Halibut Cove Retreats!
(Can you spot our staff members who went on the retreat?!)
Cruising Through Alaska
This Saturday, Angelyn and I will fly to Seattle, where we board the ms Westerdam to cruise through Alaska with the Quilt Seminars at Sea program! I am personally very excited to see places in our state that I've never seen before, it will be a beautiful trip (assuming that this sunshine holds out).
We are supplying the onboard store as well as the machines to be used in the classes. We had a great time on our last cruise (the Caribean) and enjoyed meeting all of the ladies in the program. If you are interested in doing a Quilt Cruise, check out
Quilt Seminars At Sea
for upcoming cruises.
Entry Level Machines on Sale!
All of our machines for the cruise were picked up and shipped out last week. We are taking B215's & B350's which will be used during the classes on the cruise. We have these machines on AMAZING special! These machines will get some use but will be cleaned once they arrive home. You are basically getting a "demo" machine for a "used" machine price! It is such a great deal. Call the store or come by for more information so that you can reserve yours before they're all gone.
New Fabrics
I'm sure you are all getting busy with gardening and other summer activities but be sure to set aside a little time to come in and check out our new fabrics. We have A LOT of new batiks, as well as the new Dr. Seuss "Sam I Am" fabrics. Ombre fabrics are big right now and we have a fun selection in many colors! Come by and see us. If anything, you can stock up on fabric now for all of your winter sewing projects!
Looking forward to seeing you in the store,
Enjoli & the Team Members at SLH