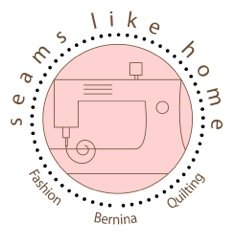 Hello SLH Followers,
I think it's safe to say that Spring has (finally) Sprung!
In celebration we are having a..
Big Bernina Sale!
April 13 & 14
Just in time to either celebrate or console you on tax day!
- 40% off select Bernina feet, both Heritage & Classic style, accessories and embroidery collections!
- 30% off select floor model Bernina machines, Designer Plus V6 and Editor V6!
(All items limited to stock on hand, except software.)
We will special order Designer PlusV6 and Editor V6 and still offer the amazing discount!
Mark your calendar! You don't want to miss this sale!
New Fabrics
Oh boy did we just get some great new fabics (I've had to promise my hubby that I won't spend our entire tax return buying fabric.. even though I really really want to! ) in cotton, batik and MINKEE!!
Minkee really has so many possibilities and it's just SO soft!
New Alaskan panel
This panel was very well done. You could just cut them apart and frame them for beautiful pieces of artwork!
Any TWILIGHT fans? If you have a teen girl in your life needing a vampire fix, here is your answer! Come check out these hunky vampire men and get some before they're gone!
Other New Novelty
An adorable new juvenille line that could be used for our upcoming Baby Basics class (keep reading for more info!).
Oh how I love new batiks! I always start scheming a new Judy Niemeyer project when they come in!
Welcome to a New Class:
Baby Basics

Since it seems to be "Baby Season" and it is way more fun to give hand made gifts to new moms/babies we've decided to add a Baby Basics class! This class will teach you a few different projects for the makings of an awesome gift basket! We will make a swaddler, burp clothes, simple baby quilt, diaper strap and bibs!
Ohh what fun! You can make it coordinating or mix it up with all of the fun novelty fabrics we have!

More info & dates to come! Keep an eye out, we will post the information on our website & facebook!

Facebook Fun
If you haven't been on our facebook page lately or don't have facebook, here is what you've been missing out on...
Amazing Notions:
This 1" Bias Tape Maker saved my life last week when I was mass producing bibs for my two little drool monsters! Clover makes this bias tape maker in four other sizes!
Finished Projecst & Cute Models:
This is the bib I was working on, finished and being modeled by litte miss Ascher. (Also a sneak preview of the bib being made in Baby Basics)
And last, but not least (since I get to be in charge of writing this email) an update on the girls! The twins are already 8 months old and Alia is 3!
Avalyn on the left & Ascher on the right. The tongue sticking out is very characteristic of Ms. Ascher! (That is how we tell them apart most of time; if you can get them to smile, Ascher will almost always stick out her tongue!)
Big Sis Alia is quite the helper. She likes to dance around, sing and do anything that will make her sisters laugh! We have a great time with our girls, and when I do get out of the house with them, fabric shopping is usually one of our stops!
I hope you are all enjoying this new sunny weather as much as we are. Don't forget to come see us and keep up with us on Facebook!
See you in the store,
Enjoli & the Team Members at SLH