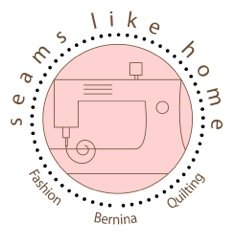 Hello SLH Followers,
Just a few reminders and then I get to tell you about an awesome upcoming class!
First, we do have a few cruise machines left (B215 & B350PE) if you are in the market for a new machine or a take-to-class machine! These machines are great and travel very well (they've been on a cruise!). Call or come by to get more information.
Second, we do have a Bernina financing promotion coming up called Start Sewing, Start Saving. It starts March 14 and goes through March 18. The deal is No Interest w/ Equal Montly Payments for 24 months on products over $500 (which both the B215 & B350 are!) so take advantage of a great financing deal along with a great price deal on Bernina machines right now!
There are also a few Instant savings deals with the Start Sewing, Start Saving promotion. Here they are:
• $399 to $999 to receive $50 instant savings
• $1,000 to $2,299 to receive $100 instant savings
• $2,300 to $4,499 to receive $150 instant savings
• $4,500 to $6,499 to receive $250 instant savings
• $6,500 plus to receive $500 instant savings
*These instant savings cannot be combine with our current "cruise special" on the B215 & B350PE.
Saturday Sampler Weekend
Just a reminder to those of you who participate in our Saturday Sampler program. This weekend (Friday, March 15 & Saturday, March 16) are your sessions! Make sure you have your block done and come to your correct session!
Just in case you don't remember, the sessions are Friday at 6:00pm & 7:00pm & Saturday at 8:30am & 9:30am.
Okay, now that all of our reminders are out of the way. Here is a preview of an upcoming class that a lot of us at the store are very excited about.
Glacier Star
Sue Wilson
April 11 & 12 10:00-5:00pm
&
May 23 & 24 10:00-5:00-pm
*a third set of dates are coming
This beautiful masterpiece is called Glacier Star. It is a Judy Neimeyer Certified Teacher exclusive and it just so happens that we have an exclusive teacher coming to our store! Sue Wilson will be here the beginning of April to begin teaching this amazing quilt. It is done by paper piecing and we recommend that you have some paper piecing experience under your belt before you commit to this project!
And, here are a few other upcoming classes you may want to consider:
Machine Care 101
Gene Looman
Tuesday, March 21 6:30-7:00pm